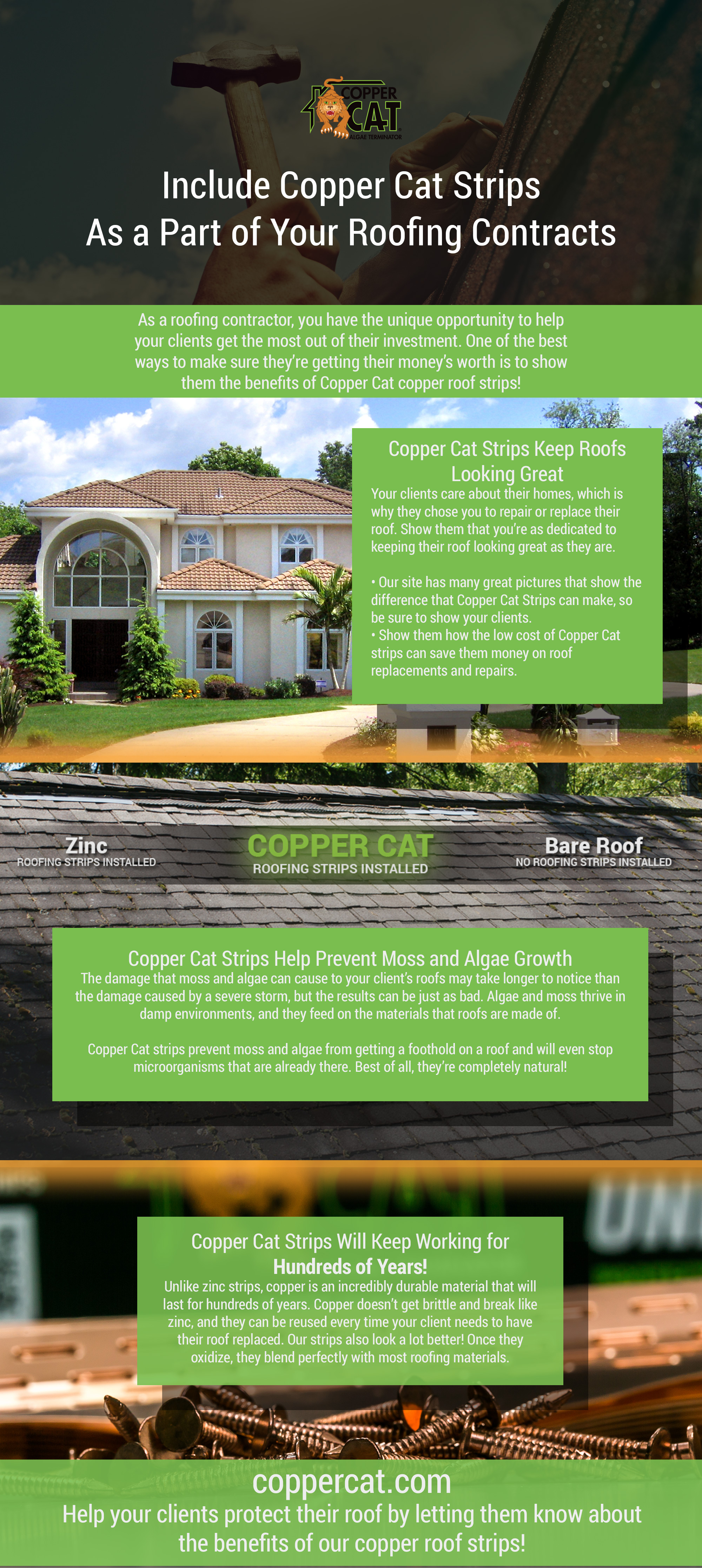 As a roofing contractor, you have the unique opportunity to help your clients get the most out of their investment. One of the best ways to make sure they're getting their money's worth is to show them the benefits of Copper Cat copper roof strips! Our copper roofing strips are stronger than zinc strips, last much longer, and remove and prevent moss and algae better.
Best of all, we make it as easy as possible for you to order Copper Cat strips — they're available in boxes that come with 30 linear feet per box, and you can order them directly from us, and we ship each box for free! If you have any questions about our product, please feel free to get in touch with us.
Copper Cat Strips Help Prevent Moss and Algae Growth
The damage that moss and algae can cause to your client's roofs may take longer to notice than the damage caused by a severe storm, but the results can be just as bad. Algae and moss thrive in damp environments, and they feed on the materials that roofs are made of. Because the damage they can cause has the potential to  affect the interior of the shingles as much as the exterior, it is possible for a roof to be far more damaged than it appears. This alone is a great reason to install our copper roofing strips!
Copper Cat strips prevent moss and algae from getting a foothold on a roof and will even stop microorganisms that are already there. Best of all, they're completely natural! Unlike harsh chemicals, which do as much damage as the pesky microorganisms they're trying to eliminate, Copper Cat strips keep working naturally. Every time it rains, our strips ionize the water which makes it harder for these microorganisms to get a foothold on your roof.
Copper Cat Strips Keep Roofs Looking Great
Your clients care about their homes, which is why they chose you to repair or replace their roof. Show them that you're as dedicated to keeping their roof looking great as they are.
Our site has many great pictures that show the difference that Copper Cat Strips can make, so be sure to show your clients what they can expect in terms of results.

Show them how the low cost of Copper Cat strips can save them money on roof replacements and repairs.
Copper Cat Strips Will Keep Working for Hundreds of Years!
Unlike zinc strips, copper is an incredibly durable material that will last for hundreds of years. Copper doesn't get brittle and break like zinc, and they can be reused every time your client needs to have their roof replaced. Our strips also look a lot better! They're shiny and beautiful when they're installed and once they oxidize, they blend perfectly with most roofing materials.
Help your clients protect their roof by letting them know about the benefits of our copper roof strips! They will appreciate your efforts to help them save money, and they'll think about you every time they need a roof repair. Check out our shop now.